A visual history of my stomach throughout the ages
A Reflection on my 2012 Goals that I'm Retroactively Setting for Myself Right now
Around Thanksgiving of last year, I set out to write a blog post reviewing my accomplishments from 2011 and setting my goals for 2012.  I never got around to it though, because just the thought of embarking on such a task sent me into a tailspin of creative blocks and self-loating that lasted for the rest of my life.  Or at least until my mom sent me on a yogic retreat intended for women experiencing midlife crises.  
But now that a year has passed, my creative blocks have disappeared, and my outlook on life has shifted from severe cynicism to just mildly severe cynicism, it seems like a perfect time to reflect on 2012 and retroactively set the goals that I might have imagined for myself a year ago.  Then, I can reflect on how successful I was at achieving those goals.
Goal 1:  Set attainable goals for myself and then periodically measure my progress.
Damnit!  How can I fail at retroactive goals, you moron?  All I have to do is list out all of my achievements for the year and pretend that they were my goals and then I'll feel really great about myself.  But nooooo, instead the first one I list is an utter failure.  Damn you mildly severe cynicism!  
Okay.  Start over.  Goal number two can be to use the rest of this blog post to imagine what 2011 me might have written on New Year's Eve 2011 for present me to reflect upon in a hilarious blog post that present me would write while wearing jeans that he had not washed for the entirety of the year.   
—A brief aside:  Disregarding for a second that what I am about to say addresses a topic that most certainly has a correct answer, and that I am not sure whether I fall on the good side or bad side of that answer, or that I don't care about which side I am, here's something that's bothering me:  

      I hate people that use the word "an" instead of the word "a" before a word that starts with H and has a hard H sound.  That's why I said "a hilarious" not "an hilarious."  I would also say "an hour" because I don't say "an how-er," I say "an ow-er."  Ow starts with a vowel.  How doesn't.  Did I make this more confusing because hour and how both start with Hs?  How would one spell the sound a hard H makes?  Eight-ch?  Speaking of eight-ch, who decided that g and h should go together?  Ghod?  Probably not, right?  Any way, this whole thought process is giving me an headache.  It's a probably as ghood a time as any to return to the list of failures goals I set for 2012. 
Goal 2:  Run the New York City Marathon
In December of last year, I had hit the nadir of my running life. 
Unless nadir means top, in which case I mean zenith.  So in an effort to get back in the game and enjoy running again, I came up with an elaborate plan:  
Step 1: I forced myself to run the NYC half marathon (check)
Step 2:  I swore I would run my personal record time for that race (check)
Step 3:  Right now, I amended step two to clarify the the word "record" could mean either the fastest or slowest time I'd ever run.  Both would be records, right?  (nailed it!) (suck it mildly severe cynicism!)
Step 4:  While on the 45 minute walk home from the finish line, shivering from the cold, dehydrated, hating running and myself, thinking of nothing other than how I never wanted to ever run ever again in my life for any reason whatsoever, decide that I should definitely run the New York City marathon this year.   (check)
Step 5:  Cancel my entry for the marathon even though canceling does not benefit in me in any way.  It is a courtesy to the New York Road Runners so that they can plan their race accordingly and order one less water.  
Step 6:  Have ING and NYRR cancel the marathon and allow all entrants to run the race in a future year!  Except for those who canceled their entry as a courtesy to ING and NYRR.  
So, I'm doubly screwed.  Since even if I had spent the entire year training for the marathon my dreams would have been shattered, I am calling this one a win!  Mission accomplished, MF'ers!  I'm a marathoner!  
Goal 3:  Visit the gym 120 times.
120 visits has been a steady goal of mine since 2008, when I first joined fancy pants Equinox on a whim.  I remember it well because Anne and I had just moved to the Upper West Side, and we both agreed that me joining the fancier (but closer & eucalyptus towel sporting) gym would most likely turn out to be an enormous waste of money.  But I was really lazy, so I disregarded our collective common sense and signed up for Equinox with the promise that I would make sure to visit 120 times for the year.  An impossible goal to achieve, but one that would justify the cost.  
Turns out that it worked!  Maybe it was the eucalyptus towels, maybe it was the angle of the mirrors that made me appear slightly less pudgy than I really was, or maybe it was the layout of the locker room in the Connecticut gyms that ensures every other guy will walk nude for an extremely inappropriate distance before grabbing a towel.  No one can be sure.  
Whatever it was that got me 120 times in 2008 did not help me this year, when I only had 110 visits.  Why even bother?   I did some research on this, and for optimal results, you should be working out 2 hours a day.  At least according to science:
Goal 4:  Write a blog post that is published by an online media outlet that shares a name with an animal typically found in zoos:
Whoa!  Nailed this one.  Great job, 2012 Rob!:
http://www.elephantjournal.com/2012/12/9-things-i-learned-from-my-first-year-of-yoga-rob-pollak/
Readers, I'll need your help to achieve a related goal in 2013.  Even after a really great day, fewer people viewed my article than viewed an article titled, "Your ugly vagina is normal and gorgeous."  So if you want to make me more popular than an ugly vagina, then share my link!  By the way, I'm not linking to the ugly VJJ article for obvious reasons.  (the obvious reason being that you will click and then it will continue to rack up more views than my article).
Goal 5:  Build up my blog a little bit and then lose all of my followers.
Wait, that doesn't seem like something 2011 me would set out to do.  Oh, ok 2012 Rob.  Then why mention an article about ugly vaginas?  You're going to drive everyone away.  Or will I?  Google Analytics says that in 2012 the search term that most often directed people to my blog was "Jamaican Penis?"  (This is the space where I am providing a link to the post about Jamaica so no one has to click on a link with the word penis [but if you like clicking on penises, then this is for you: 8======> ) (FYI if you're reading this mom - that's internet slang for a picture of a penis).  So if you've found me through either of these search terms, Welcome!  Bienvenue!  Bonvenon!  G'Day!  And if that offended you, I'm sorry to see you go.  But at least I won't have to draw any more thank you pictures.  See ya suckers.  
Goal 6:  Eat 200 pints of ice cream.
Finally!  I totally nailed this one.  And not only did I accomplish it, I completed the whole thing by February.  
Up next - My goals for 2013…if I get around to it.
You guys!  This thing that I wrote on my blog got picked up by a site with a lot more followers than the 8 of you reading it here.  So you guys should click and share!  
Just a reminder that I still love you!
It's the end of the world as we know it (and I feel relatively ambivalent)
Look, we can argue for days on end about whether Maya Angelou is real or not and whether her prediction about the end of the world is correct, but I'm not taking any chances.  So like I always do when the apocalypse is upon us, I'm going to use the upcoming end of days as a chance to air some grievances and get some important things off my chest.
So in order of importance, these are the things I need to say before the world ends (FYI - May contain SPOILERS):
1)  I wish I had participated in Movember at least once.  As a hairy beast, I probably could have grown an epic mustache.  Instead, we can just look at this fake mustache I wore to a bachelor party and imagine what could have been.  Oh, the possibilities.
On second thought, maybe I shouldn't ever do that again.
2)  Homeland season 2 disappointed the hell out of me.  There were moments when I thought it was amazing, but in the end, I found the relationship between Carrie and Brody to be completely unbelievable.  They just don't love each other.  They don't.  You can't give me a plausible story line where she actually falls in love with a guy that was going to blow up anything in the US.
Also, I usually believe everything on TV to be real.  Like Anne and I will be watching an episode of the smurfs, and I'll be like, "Hey Anne, we should go to Smurf Village for vacation," and then she'll explain to me that it's not a real place.  And after a few minutes, I'll be like, "oooohhhhh.  I totally should have smurfing known that.  I guess that's why they're blue and all have the same last name.  It doesn't add up.  You're so smart and dreamy, Anne."  Yet with Homeland, just about everything seemed implausible to me.  For instance:
3)  It would have been nice if the end of the world could have come after the holidays.  I was really looking forward to some epic presents this year.  Anne, if you're reading this and we make it through the weekend, though you might want to have a looksy at this picture I found on the internet:
Obviously I haven't gotten Anne a present yet.  Mostly because I don't want to be wasteful if the Mayans were right.  But I also would have already accidentally told her about her gift, so I am forcing myself to wait until the last minute.
4)  New York Road Runners just emailed me and said that because they canceled the marathon, I can get automatic entry into next year's marathon.  Debating whether I should disregard that option so I don't let myself down or take the option and ensure that the world ends.  The weight of the world is on my shoulders.  I wonder if they are going to black ball me because I canceled my entry before they canceled the marathon.  I should pounce before someone realizes that mistake.  If their past actions are predictive, then someone will notice in about 2027.
5) Most of the time, I think I'm pretty awesome, but then I see something like this and realize that I am very pedestrian.  If someone followed me around and took lots of photographs, they would see almost entirely:
and then an occasional binge of this:
6)  Speaking of binging …  People who have watched all of Breaking Bad - Is it worth marathoning the rest of it this weekend?  I'm midway through Season 3 and I need to know if I'd be disappointed to get to heaven and find out that they tell you spoilers there.
7)  My defensive driving course paid off big time!  I believe that's all I should say about the matter.  Actually, I have no idea how much I should or shouldn't say about the matter.  Screw you, law school!
8)  To Anne, my family, and my loyal readers:  I don't tell you enough that I love you, but I do.  Actually, that's not entirely true.  I tell Anne that all the time.  Like All the time.  I love you, Anne.  There.  I said it again.  In fact, up until that sentence, this post was the longest I ever went without telling Anne that I love her.  I've even commemorated her in epic video fashion.  I hope she reads this, but it's 50-50.  She's a late adopter of the internet.
But to everyone else, I sincer-iously love you all very much.  Thanks for keeping me creative.   If you love me back, note that I measure your love through clicks, likes, and various other statistical measures.  So please press that little like button (or go to www.facebook.com/PollakComplains).  I don't know why it makes me feel so good when someone likes something, but it makes my heart aflutter each and every time it happens.  Here's a diagram of how to make my heart aflutter:
If I can repay you in any way through stick figure art, I would be honored to do so.  I understand the gap between how I perceive the awesomeness of my blog:
And how you do:
Happy holidays, world!
Things I've Been Into
To follow up on that last post, here's a list of pretty much everything I've ever been into (relevant dates in parentheses)
Anne (August 1996 - December 2000; January 2001-present)
Playing hard to get with Anne (December 2000 - January 2001)
Rage Against the Machine (1994-1999; 2010-present)
the Allman Brothers (college)
The Simpsons (college)
The Wire (three week binge, 2010)
Freshmen girls (Senior year of college)
Office Space 
Call Me Maybe (every time it gets stuck in my head)
Adele (two months after the rest of America)
Fight Club (every night for a two week period right after I started working at my first job)
The internet
Nick Hornby books
Mad Men (2012)
Hating on Mad Men (2010)
The British Office (2003)
Hating on the American version of the Office (2004)
Loving the American version of the Office (2004)
Running
Talking about running
Yoga
blogging (may 2011-may 2012; today)
Fake Tanning (After spring break in Panama City Florida Junior Year)
golf 
Taylor Made Burner Drivers
Tiger Woods
Bon Iver (anytime I am sad)
Bob Dylan Bootleg Series 
Guns N Roses (Pre-buckethead)
Facebook (when I'm bored)
Twitter (when I'm bored and on the subway)
tumblr (When I'm bored and want to look at pictures of my niece)
plaid shirts (high school)
khaki pants (college)
wearing hats (when I had hair and didn't believe people that told me wearing hats make you bald)
captain and coke (college)
Bonobos pants 
Warby Parker glasses
BD Baggies shirts
Puma golf shorts
the Mets (1983-1988)
The Red Sox (1990-2006)
the Olympics 
Quentin Tarrantino movies
hot dogs 
WWF wrestling (Junk Yard Dog Era)
Talking like Randy the Macho Man Savage (periodically)
Talking in a foreign accent (whenever I get back from another country)
Hamilton College
Playing trumpet (high school)
Bill Simmons (pre-ESPN2)
Rick Reilly (1993)
Hating Rick Reilly (1993-present)
Hating the Mannings
Hating Phil Mickelson
Making lists
Ranking things
Survivor (the only one still into this)
The Biggest Loser
The Art of Fielding
Finding the best slice of pizza in New York
boxes of boobs:
 
I probably forgot something, but I think that covers most of my life.
Things I should be into
I've recently found some new things that I'm pretty into.  For instance, I never thought I'd like yoga, but then I saw how much better life can be if I joined a cult and then I stopped blogging for 5 months and no one seemed to worry about me at all.  I may have written off Downton Abbey in my younger days, but recently I found myself waiting with Bated breath to find out if Mr. Bates would kill Anna.  (I really didn't mean for that to be a Bates pun).
In other words, I'm trying to get more into getting into new things and I'm open to suggestions.  Here are some things that may help you recommend your favorite things to me.
MUSIC:
One of my worst qualities is that I'm just not that into music.  I can't listen to music while I do other things.  I don't turn on music when I get home.  I am tone deaf.  Others cringe when I sing along.  I'm not that into hip hop.  I'm pretty out of touch with modern music trends.  I like Mumford & Sons.  So if you have suggestions for things that might break me from this trend, call me maybe?
TV:
I still haven't watched Breaking Bad.  I watch Louie.  I watched 4/9s of the Girls season and liked all the ones I watched but didn't commit.  I have the attention span of a 17 month old with ADHD, yet I don't really like clip shows.  I have netflix streaming but don't use it enough.  I'd like to binge watch a couple of shows that will make me happy.  Preferably comedy.
Movies:
I just saw 21 Jump Street.  Surprisingly good.  I have the least discerning palate of any movie goer ever.  I literally can't remember a movie I didn't at least think was ok. 
Web/Apps:
Should I be more pinteresting?
Fitness:
I'm bored with running, which is making training for and committing to the marathon pretty difficult.  I have been doing other workouts to keep myself from running.  Any ways to make running more exciting (other than those I read about at Hot Bird Running?)
I've been trying to do a handstand against the door of my apartment, but Anne thinks it's too dangerous.  I also worry that one time I will be upside down and she'll come through the door and break my neck and then feel really bad that I end up in a wheelchair and she has to take care of me for the rest of her life and feed me through a straw.  So that's pretty much the danger threshold.  
Things to do:
If you know any cool things to do, I will try them and write about them.  Last week I explored Chinatown and the best thing I found was this:
So if your suggestion was going to be squeezable breast balls, then you can hold your advice until later.
Why I Run
Happy National Running Day!  Since I'm a rule follower, here's my contribution to National Running Day's "I run…" campaign.
I run…
Because it lets me eat like this.
Because all you need is a pair of sneakers (and a GPS watch, and an ipod shuffle, and Body Glide, and a sweatband, and a wicking shirt, and a wicking hat)
Because evolution demands it.
Because I seem like the calm one when standing with a group of anxious runners before the start of a race.
Because I no longer feel safe on yoga retreats.
Because from 2004-2009 I had one pair of pants that I wore every day.  (and in 2008, I didn't really even button them all the way)
Because I really really really really really love ice cream.  
Because of the race photos:
Because I've got great friends to run with, and they have no choice but to listen to everything I say the entire time.  
Because I can obsess over my race times being posted on the internet. 
Because if you google "Rob Pollak Running," this comes up in the image search: 
But also this (Another Pollak who's running … for office!  Get it?  Zing.  LOL!)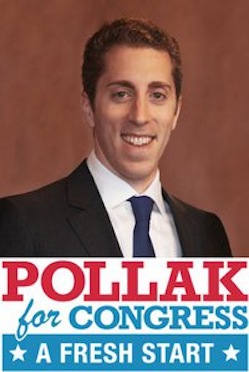 Because it gives me something to blog about.
Have a great national running day everybody!  Vote Pollak!
Operation: Jamaican Me Healthy
March 31 will mark the amazing five-year anniversary of my marriage to Anne.  So in recognition of her tremendous patience, perseverance, tolerance, patience, devotion, sense of humor, patience, and ability to see the potential in others, we will be taking a celebratory trip to Jamaica.  
To commemorate this momentous occasion, I've decided to do something extra special for Anne.  That's right, I intend to remove my shirt in public for the first time since forced to pass a mandatory swim test on my first day of college.  Because I work best when instructed to follow an explicit set of rules, I enacted Operation:  Jamaican Me Healthy, a ten-step plan designed to help me and others achieve the perfect beach bod.  
Operation:  Jamaican Me Healthy (patent pending)
Step 1:  Take a photo of yourself and identify any potential areas for improvement:
Step 2:  Reduce the number of meals eaten at shake shack from 5 to 3 per week.
Step 3:  Increase the amount of exercise from none times per week to at least 6 times per day.
Step 4:  Think of as many "Jamaican me" jokes as you can.  Use them at least once per conversation.  Pray that despite step 4 you still make it to that elusive five year anniversary.
Step 5:  If you see, smell, hear, touch, bathe in, or otherwise come into contact with ice cream, repeat step 4.  
Step 6:  No alcohol except for Red Stripe and rum punch.
Step 7:  Watch The Biggest Loser and Cool Runnings every week.
Step 8:  At the end of each day, stand shirtless in front of the bathroom mirror and flex your muscles.  If Anne anyone knocks on the door and asks "what are you doing in there? Everything ok" respond with, "Sorry.  That healthy dinner I had tonight must have ja-made my stomach upset."  Then remind yourself that "jamaican me" jokes don't work as well in the past tense, flex three more times, flush the toilet to complete the story you were selling, and get a good night's sleep.   
Step 9:  If the first eight steps are not jamaican you as ripped as you hoped to be, seek extensive lipo or other forms of plastic surgery.
Step 10:  Remove your shirt, retake your photo, and witness your amazing transformation from step 1: